Hospice Centers
When your hospice center works with LTCI to develop a compliance program, you can focus on your mission rather than constantly filling holes in compliance to avoid a crisis.
Hospice centers operate in a highly regulated environment with state and federal laws at every turn.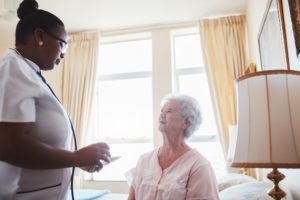 Yet, their missions are to serve their patients compassionately, safely and skillfully, all while running an efficient business. Surveys from state agencies, and Corporate Integrity Agreements imposed by the Office of Inspector General can create well-founded anxieties for hospice administrators and staff because they can lead to costly fines, penalties and legal action. All of this distracts from the mission at hand. That's why developing an effective compliance program is so critical.
Experts at the Long Term Care Institute are devoted to helping hospice organizations create a culture of compliance that removes many of these anxieties – allowing your organization to focus on serving patients and running a sustainable business. 
Our multi-disciplinary staff brings years of experience to every customer engagement whether you're operating one facility or a network of facilities. We truly understand the ins-and-outs of long-term care compliance and look forward to serving your organization. We serve these organizations through:
external regulatory monitoring
regulatory and life safety code surveys
quality assurance and performance improvement program development
compliance and regulatory program development.
We've designed all of the above services to maximize the benefit your hospice center receives. Yet, without a strong and effective compliance program, it's possible that the same problems will continue to arise. That's why we're passionate about making compliance a part of the culture in hospice centers. There are several reasons why it's important to develop a strong and effective compliance program. Here are just a few:
It's the law. The Affordable Care Act requires hospice centers to create effective compliance programs. It's not good enough to simply create a program that doesn't touch the everyday operation of your organization – it must actually be in effect.
It can help you unethical or illegal behavior in your organizations before it becomes a larger or more widespread problem.
It can help your organization shore up losses from inefficient practices, improve quality of care and boost your operations.
It is a factor that the government considers when imposing fines and penalties. If your organization can show that it has a compliance program in place, fines and penalties may be reduced significantly.
The Long Term Care Institute works with hospice centers of all sizes. With several staff members who have worked within these environments, we are uniquely positioned to understand the many factors facing you and your staff on a daily basis and to develop solutions that work.
Contact us to set up an initial consultation to determine which of our services are right for your organization.
QAPI/Compliance Information
Office of Inspector General Information